Details on the omnidirectional speaker
- Quote from
~ listude ~ the producer's homepage -
What is an omnidirectional speaker?
Sounds in nature are omnidirectional, spreading rapidly in different directions. In contrast, common speakers that typically come in the form of a box sound linear, or one directional. We understand that the sounds produced by a common speaker are unnatural. With an omnidirectional speaker, we aim to reproduce voices and sounds of instruments in a more natural manner, enabling even electric sounds that can be heard only through a speaker to sound acoustic. If the production of electric sound is fundamentally changed, it could revolutionize electric music. The potential to transform people's appreciation of electric music is what motivated our co-founder, Manpei, to start making omnidirectional speakers.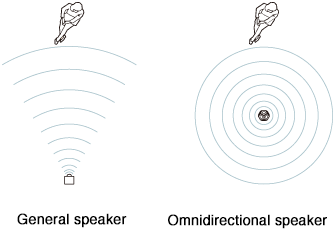 How is it different from a conventional dodecahedron omnidirectional speaker?
Regular dodecahedrons have been known to be very beautiful three-dimensional objects since ancient Greece. It is the closest regular polyhedra to a sphere. An omnidirectional speaker with a regular dodecahedron shape was first developed as a sound measurement device for concert halls. Later on, speakers of that kind were put on the market. Although an omnidirectional speaker should have better performance than conventional speakers in terms of the sound production theory, the quality had never been fairly evaluated with a necessary external tuning device. The speaker's use was also limited as it did not work with commercially available amplifiers and required dedicated cables.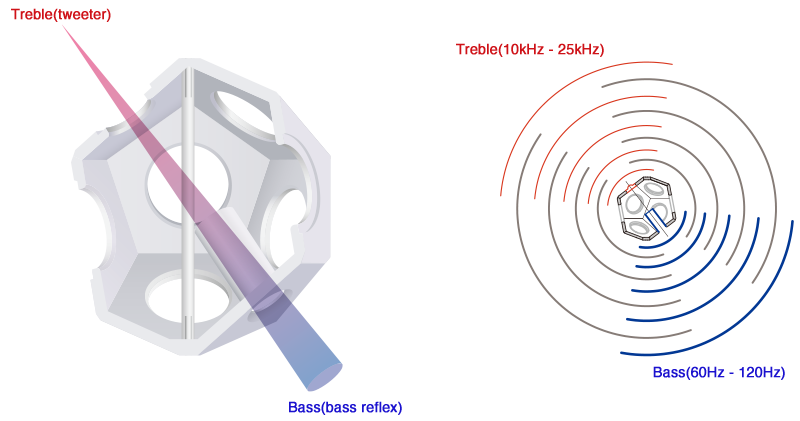 What is a coaxial omnidirectional speaker?
A coaxial omnidirectional speaker has a structure where one of the six diagonal pairs of a dodecahedron has a tweeter (a high-tone speaker) on one side, a bass reflex port to extend bass performance on the other side, and midrange speakers placed around the axis connecting the tweeter and the bass reflex port. This structure allows a speaker to be coaxial from the front side while being omnidirectional.
To enhance the sound quality, tweeters are placed 120 degrees apart from each other around the axis stretching vertically from the center of the speaker, emitting high-tone area equally in the direction horizontal to the speaker. These are the features of the coaxial omnidirectional speaker.
We believe that our speakers, with advantages of both omnidirectional and coaxial speakers, can offer new scenery to the world of acoustics and music.